Was Symphony No. 5 Written for Old Faithful?
And those who were seen dancing

were thought to be insane

by those who could not hear the music. Friedrich Nietzsche.
Day five of our three-week shindig continued into Yellowstone National Park. After passing through the Tetons, I just didn't think anything could possibly top THAT!
Yellowstone had a different flavor. It was definitely "otherworldly" . . . with some of the landscape so unusual that it felt like we'd just waltzed onto another planet! Decorated with wildlife, geysers, lakes, waterfalls, and rough terrain, this two-million year old volcanic caldera is overflowing with beautiful sights! We spent two full days touring Yellowstone and still didn't see all there is to view.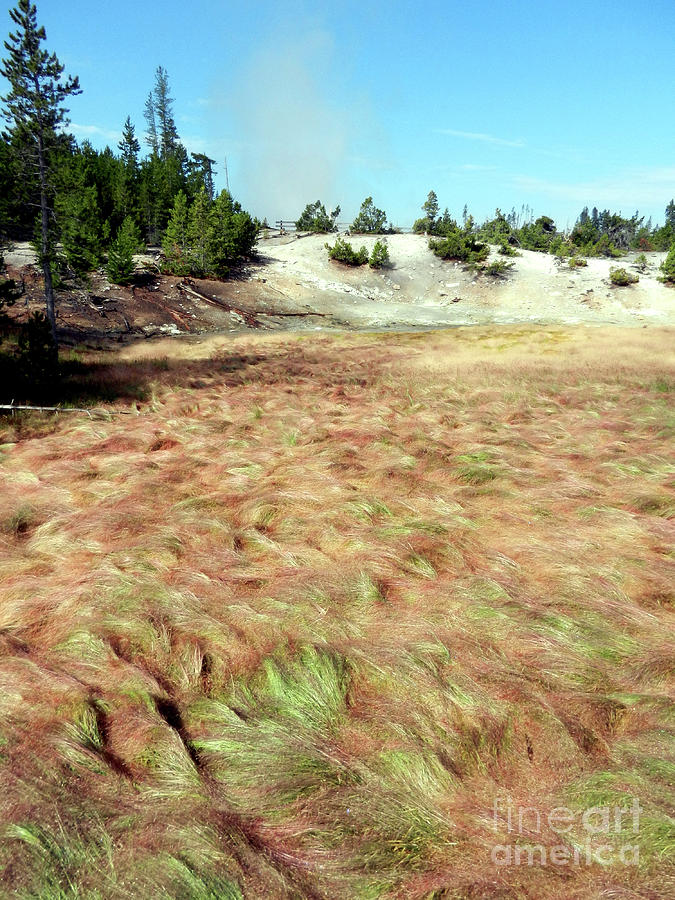 Armed with our map of the park, we danced our first two-step at the Old Faithful Geyser. We spent a little time with the museum curator, who shared stories of the Bison in the park. He was very passionate about the survival of the species, and gave us a little "insight" along with a warning regarding their nature. We passed through Yellowstone during the "rut", or mating season of the Buffalo . . . but that's a story for another day!
When I was working on our vacation memoir video, my husband suggested using Beethoven's "Symphony No. 5" with Old Faithful. He was right . . . it's as though this orchestral piece was penned just for her geyser dance. Nature plays a symphony of her own, which has inspired artists and musicians for centuries! And although I doubt very seriously that Beethoven wrote his fifth symphony with a geyser in mind, it is at the very least, entertaining!
May the symphony play on!
Visit
Yellowstone National Park
on the Web!
A Note about using Beethoven's 5th Symphony: The composition itself is now public domain. However, depending on who has performed and recorded the piece, the performance may still be subject to copyright laws. I found a public-domain recording of this piece on
http://musopen.org
(a non-profit organization designed to make public domain compositions available for free download). The exact location of Beethoven's 5th Symphony on their website can be found
here
. It was performed by
Skidmore College Orchestra
(Saratoga Springs, New York, USA), and they did an excellent job! Thank you to all who made this piece of musical history available for public use.